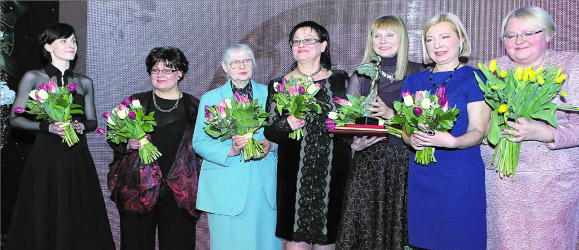 Sekundei tarsi sustojęs laikas, mirtina tyla ir ją susprogdinusios audringos ovacijos, nuskambėjus vos dviem žodžiams: Dalia Kanclerytė. Vienuoliktujų Metų klaipėdietės rinkimų kulminacija tapusi akimirka jau įėjo ne tik į šio renginio, bet ir į uostamiesčio istoriją.
Turi gausybę rezervų
Energingas, žavias, talentingas, darbščias, savajam miestui ir jo žmonėms nusipelniusias moteris siūlę bei jas palaikę klaipėdiečiai pagaliau paskelbė savo verdiktą. Daugumos balsavusiųjų nuomone, šiemet garbaus Metų klaipėdietės titulo verčiausia buvo režisierė, dokumentinių filmų autorė D. Kanclerytė.
Dar nespėjus nukristi didžiajam paslapties šydui, šventinio titulavimo oficialią pradžią paskelbęs bendrovės "Diena Media News" generalinis direktorius Laimutis Genys pastebėjo, kad uostamiestis ir dienraštis "Klaipėda" dar turi labai daug rezervų, nes čia gyvena gausybė puikių šį miestą garsinančių moterių. "Nors šįkart ne visos laimėjo ir ne visos gali laimėti, tačiau labai smagu, kad klaipėdiečiai metų moterį renka ne iš tų herojų, kurios nuolat šmėžuoja žurnalų viršeliuose, pasirodo pramoginėse televizijos laidose, bet renka tas, kurios yra lyg ir nematomos, tačiau atlieka labai didelį bei svarbų darbą", - kalbėjo L. Genys.
Įvertino ne tik kūrybą
Dienraščio "Klaipėda" skaitytojai šių metų laureatę pagerbė ne tik už jos kūrybą, bet ir savanorišką veiklą. "Pakūta mano meilė", "Misionierius", "Malonė", "Rožių lietus, "Vaiko širdis" - tai tik dalis per aštuonerius metus režisierės subrandintų filmų. Šiandien Dalios filmografijoje puikuojasi net dešimt dokumentinių juostų, kurias įvertino ir Lietuvos, ir užsienio publika. Kūrybinių idėjų nestokojanti menininkė yra parengusi ir radijo poezijos laidų ciklą, kartu su muzikantais įvairių miestų publiką kvietė į poetinių kompozicijų vakarus. Jau trejus metus D.Kanclerytė režisuoja "Vilties bėgimo" renginius, kurie į miesto gatves sukviečia gausybę svetimo skausmui ir kančiai neabejingų žmonių.
Artimai pažįstantieji Dalią žavisi jos nuoširdumu, atvirumu, stiprybe bei optimizmų, nors moteriai likimas nepagailėjo žiaurių smūgių. Praėjusiais metais dienraščio "Klaipėda" žurnalistų D.Kanclerytė buvo įvertinta ir Metų tolerancijos titulu. "Labai didžiuojuosi, kad esu klaipėdietė, man be galo gera, kad aš čia užaugau, čia mylėjau, kad čia išgyvenau visas savo bėdas ir kad Viešpats išvedė mane iš tų bėdų, džiaugiuosi, kad čia yra labai daug draugų. Esu dėkingą daugeliui žmonių, kurie mane vedė, buvo kartu, kad jie buvo mano gyvenime. Dėkoju visiems tiems, kurie už mane balsavo", - neslėpdama jaudulio kalbėjo Metų klaipėdietė D.Kanclerytė.
Įsteigė specialų prizą
Vakar vykusioje šventinėje ceremonijoje vienuoliktąją Metų klaipėdietė paskelbęs dienraščio "Klaipėda" vyriausiasis redaktorius Saulius Pocius D.Kanclerytei įteikė tradicines regalijas - juvelyro Vido Bizausko sukurtą Metų klaipėdietės segę bei skulptorių Sergejaus Plotnikovo ir Svajūno Jurkaus statulėlę "Nika". Nuoširdžių sveikinimo žodžių Metų klaipėdietei negailėjo renginio mecenatės - bendrovės "Mūsų laikas" valdybos pirmininkas Rimantas Cibauskas. О šiuo metu Jungtinėse Amerikos Valstijose viešintis Klaipėdos meras Vytautas Grubliauskas pasitelkė šiuolaikines technologijas, visoms nominantėms bei laureatei skyręs videosveikinimą. "Tai ne tik didžiulė garbė, bet ir atsakomybė. Tačiau tikiu, kad tai jūsų pečiams. Klaipėda jus myli, Klaipėda jumis tiki, jūs neturite teisės jos nuvilti", - padrąsinimo žodžius laureatei skyrė meras.
Šiemečiu klaipėdiečių pasirinkimu ypač džiaugėsi bendrovės "Topo centras" atstovai, įsteigę specialų prizą savo pasirinktai Metų klaipėdietės nominantei - įmonė D.Kanclerytė įvertino už žmogiškųjų vertibių puoselėjimą bei sklaidą visuomenėje plėtojant tradicinius "Vilties bėgimo" renginius ir skyrė 2 tūkst. litų vertės dovanų čekį apsipirkti šio prekybos tinklo parduotuvėse.
Rinko iš 37 moterų
Nors Metų klaipėdietės rinkimai įžengė į antrąjį dešimtmetį, konkurso kandidačių sčrašas su metais neišsenka. Ir šiemet į garbų titulą, skaitytojų valia, pretendavo net 37 moterys. Į antrąjį etapą tradiciškai pateko daugiausiai klaipėdiečių simpatijų sulaukusios septynios pretendentės. Finalinio septynetuko nominančių sąrašą, be D.Kanclerytės, taip pat papuošė Klaipėdos verslininkų senamiesčio sčjungos pirmininkė, LIONS klubo "Smiltė" prezidentė Loreta Beržinskienė, viešosios įstaigos "Trečiasis amžius" įkūrėja ir vadovė Irena Ona Linkauskienė, Respublikinės Klaipėdos ligoninės Neurologijos skyriaus vedėja Sigutė Mažonytė, Klaipėdos vaikų ligoninės Konsultacinės poliklinikos gydytoja oftalmologė, Informacijos ir paramos gausiai šeimai centro vadovė Regina Ševelkaitienė, choreografė, tautinių šokių ansamblio "Vijurkas" įkūrėja bei vadovė Violeta Šleimienė, sceninių kostiumų dizainerė Aina Zinčiukaitė.
Visų jų taurūs darbai renginyje buvo pristatyti trumpais vaizdo reportažais. Pirmojoje iškilmingo vakaro dalyje tradiciškai buvo prisimintos ir pagerbtos ankstesnių metų laureatės, kurios nepaliauja garsinusios Klaipėdą savo prasmingais darbais.
Šlovino vien vyrai
Kovo 8-ąją, Tarptautinę moters dieną, vykusiose Metų klaipėdietės titulavimo iškilmėse ypatingas dėmesys buvo skirtas ne tik šio vakaro "kaltininkėms" - rinkimų nominantėms, bet ir visoms žavioms viešnioms. Šventinio vakaro metu skambiausius žodžius, nuostabiausius šokius ir muzikos kūrinius joms skyrė išskirtinai vyrai. Renginių salėje "Vakaris" vykusios šventės uvertiūra svaigino šampanu ir gyva akordeono muzika. Publikai nė sekundės nuobodžiauti neleido ne tik žinomi atlikėjai, šokėjai, bet ir vakarui "dirigavęs" televizijos laidų bei renginių vedėjas Rolandas Vilkončius. Šventės svečiai grožėjosi menininkų trupės "Žuvies akis" šokėjų programa, mėgavosi vyrų a cappella ansamblio "Quorum" subtiliu muzikavimu bei išskirtiniu solisto Merūno Vitulskio vokalu. Viešbučio "Klaipėda Amberton" kulinarai pasirūpino prašmatnių vaišių stalais.
Primins ir dovanos
Kaip jau tapo įprasta, visos Metų klaipėdietės septynetuko moterys buvo pamalonintos gausybe vertingų dovanų. Visa tai ir galimybė kasmet surengti įsimintiną šventę būtų neįsivaizduojama be renginio bičiulių, partnerių ir rėmėjų. Tarp jų - visus Metų klaipėdietės gyvavimo metus ištikimas mecenatas - bendrovė "Mūsų laikas", ilgametis pagrindinis rėmėjas - bendrovė "Teo LT" bei rėmėjas "Švyturys - Utenos alus". Taip pat partneriai: jūrų krovinių kompanija "Bega", medicinos centras "Lorna", mažmeninės prekybos namų technika tinklas Lietuvoje "Topo centras", golfo kompleksas "National Golf Resort", parodų, mugių organizatoriai "Expo Vakarai", gėlių salonų tinklas "Frezija", "Smilties SPA" centras, salonų tinklas "Senamiesčio magija", sporto ir sveikatingumo klubas "Apelsinas", natūralaus sveikatinimo ir diagnostikos centras "Naturmed", "Laser klinika", saugos tarnyba "Argus", "Loccitane" ženklo atstovai Klaipėdoje, kosmetologė Aušra Holcmann bei profesionalios kosmetikos gamintojai "Darphin".
Išsamų fotoreportažą apie Metų klaipėdietės titulavimo iškilmes dienraštis pristatys kitą šeštadienį, kovo 16 dieną, savaitgalio skaitinių priede "Vakarė".